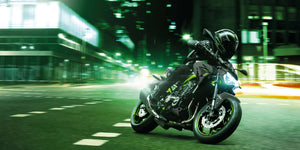 GENUINE KAWASAKI PARTS
KAWASAKI OFF-ROAD PARTS
KAWASAKI MULE PARTS
KAWASAKI ATV PARTS
THE UK'S LARGEST KAWASAKI PARTS SUPPLIER
Kawasaki Original Parts is the longest-established solus Kawasaki dealership in Europe, and that longevity has resulted in a wealth of knowledge on all things Kawasaki that few can claim to have. We have been distributing Kawasaki Original Parts for over 30 years and our dedicated parts warehouse houses
genuine parts for Kawasaki bikes, jet skis, ATVs and mules
.
At Kawasaki Original Parts, we think that Kawasaki represents exciting driving that ignites a love for the unmatched feeling of controlling powerful machines. So why settle for anything less than the best on offer? With our certified Kawasaki spare parts, you ensure that your machine has the perfect fit.
Whether you're seeking to replace or upgrade, we stock Kawasaki OEM parts for road and offroad motorcycles. We have a rich archive of motorbike parts that
extend back to models from the 1980s
, so whether you're restoring a classic or maintaining a recent model, we have everything you need to keep it as good as new.
Plus, we are well-versed in Kawasaki's range of jet skis, ATVs and mules, and supply Kawasaki parts for these vehicles. With our vast inventory, we ensure that you get the right parts promptly.
Can't find the information you need on the website?
Contact us today
with our
phone number
and
contact form
or
visit our workshop
, and our team of specialist parts advisors will be able to help.
FREE DELIVERY ON ALL ORDERS OVER £50
This offer is available for UK orders only
Search Part Number (No Dashes)
FREE UK Shipping on orders over £50!
Subscribe to our newsletter
Promotions, new products and sales. Directly to your inbox.